Revisiting 875 Washington Street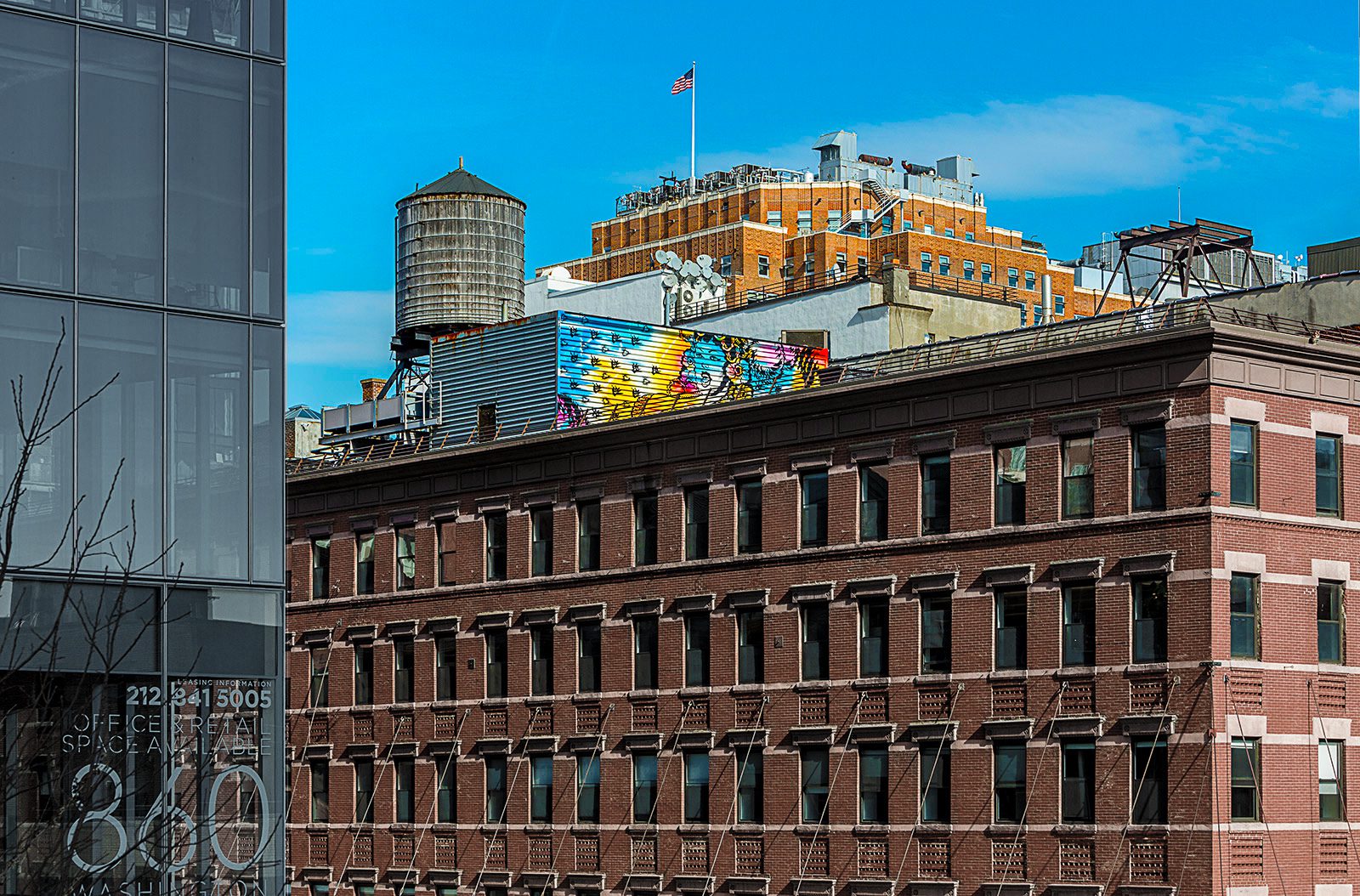 Vacant space is extremely common in New York City; it's both a problem and a resource. The city holds more space than most realize, and the question remains: just what should we do with empty space?
7 years ago, this question was raised at 875 Washington Avenue and HLZAE found a solution. Our team of architects found a way to place art on a non-historic rooftop bulkhead. We proposed a roof deck to solve a social problem and create a beneficial environment for the building. The roof deck was also a significant value-add for the owner of the building as well as the tenants who would utilize it.
"We were challenged to make the roof an attractive and unique destination," said HLZAE Project Manager, Jared Cole. "The site is located in the heart of the Meatpacking District, but also within the boundary of the Gansevoort Market Historic District. Therefore, we wanted our design to be fueled in part by the palpable energy of Meatpacking, knowing that any extensive modifications to the existing roof elements would be subject to review by the Landmarks Preservation Commission."
Our team melded the neighborhood's utilitarian past with contemporary architectural interventions. The project roof contained an exposed water tower and a large, corrugated metal bulkhead visible from the High Line. The bulkhead wall would serve as the canvas, allowing the opportunity to transform an existing utilitarian element into a dynamic backdrop to the roof deck. The LPC agreed with our logic and approved the art mural.
This art installation illustrates how design can be a catalyst for the creation of meaningful and joyful places that facilitate community engagement and growth. Through projects like this, we can re-purpose public space to be more universally accessible, inclusive, age friendly, and a builder of a sense of community. Reprogramming the shadowy areas under bridges, the off-peak city centers and the urban scrub lots unlocks both the potential of the space and the collective potential of our imagination. Re-engaging our youthful perception of the city as a malleable landscape empowers us to realize, that the currently dead spaces surrounding us aren't the end of those spaces, but the beginning.
HLZAE has extensive experience in the investigation and renovation of building envelopes and structural systems dating from the 1800's to the present. Our knowledgeable and professional staff can manage the comprehensive requirements necessary to restore function and performance of the building envelope.
HLZAE provides expertise at any stage of your project, from design to execution. Let us be your go-to experts for all your building's needs!
Sorry, we couldn't find any posts. Please try a different search.